Scylla reef wreck warning after corrosion and storm damage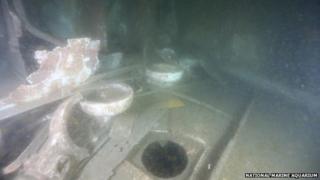 Divers have been told not to enter a former warship scuttled off Cornwall and Devon because it has become "simply too dangerous", site managers say.
HMS Scylla was sunk in Whitsand Bay in 2004 to create an artificial reef.
The National Marine Aquarium said its 2014 reef condition survey had identified factors which were "hazardous to divers using the site".
They included corrosion from being under water for so long and damage caused by storms, it said.
The former Royal Navy frigate, which was bought by the aquarium in Plymouth, is currently home to more than 250 species of marine life.
The aquarium said the survey had confirmed corrosion levels and that "further debris from the site will loosen and cause access difficulties to divers wishing to penetrate the wreck".
There was also "clear evidence of storm damage on the wreck and its marine life, more so on the starboard side," it added.
Aquarium managing director Dr David Gibson said: "The wreck would appear to be deteriorating in exactly the way we would expect a modern steel ship to after 10 years on the seabed.
"However, we recommend dives on the Syclla reef are now restricted to scenic dives around the exterior of the vessel only and the confines of the vessel should not be entered.
"The inside of the wreck is simply too dangerous now to consider penetrating the compartments."