Ipswich and Norwich 'should take' terror suspects, MP Blears says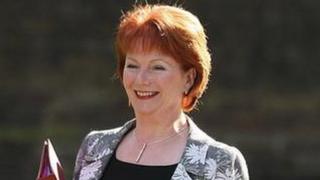 A former Labour minister responsible for overseeing counter-terrorism measures has recommended relocating suspects to Norfolk and Suffolk.
MP Hazel Blears, now a member of the Intelligence and Security Select Committee, said relocation powers should be available to the courts.
David Cameron said "stronger locational restraints" were needed.
Ms Blears said Ipswich and Norwich police would would keep a closer eye on individuals located in their areas.
The coalition government is debating what to do to prevent radicalisation of young people in the UK and how to deal with people returning after fighting in Syria and Iraq.
Relocating terror suspects had been useful to her during the previous government, she said.
Suspects had been sent to both places under the Labour government's Control Order system.
"The government's own reviewer of terrorist legislation, David Anderson, has recommended that the power to relocate suspects should be available to the courts," Ms Blears, the MP for Salford, said.
"This would mean someone involved in attack planning in the London area, where much of this goes on, could be relocated to somewhere like Ipswich or Norwich.
"Police could keep a really close eye on that person and it also cuts the individual off from other people they're involved with," she told BBC Two's Daily Politics programme.
Disrupt terror plans
However, individuals who had been subject to relocation measures have complained the isolation had led to mental health problems.
Ipswich MP Ben Gummer is concerned about the impact on the local community and any decision should be made with "fairness", he said.
"I am sure Number 10 would be very mindful of that. But Suffolk has one of the smallest police forces in the UK and this would be an extra burden."
Leader of Ipswich Borough Council Dave Ellesmere said: "Bearing in mind the secrecy surrounding relocation orders, mentioning Ipswich and Norwich made it less likely suspects would be sent here.
"I would be extremely concerned if Ipswich - or indeed any town - became known as a "go-to" place for relocating people.
"The whole point of relocation orders is to disrupt networks so it is important that those networks are not just recreated in another place."
Norwich South MP Simon Wright said that relocating suspects could cause community tensions, but he recognised the need to disruption terrorist planning networks.
Both Suffolk and Norfolk police forces said they would not comment on matters involving terrorism.