Royal British Legion opens city drop-in centres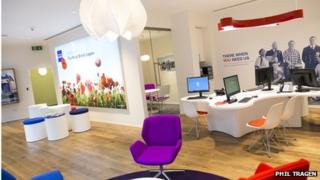 Five Royal British Legion drop-in centres are opening in UK cities as the charity aims to become "more accessible" to those who need it.
The bases in Birmingham, Manchester, London, Southampton and Cardiff are among 16 "pop in" centres to be opened.
The move, part of the biggest transformation in the RBL's 93-year history, follows research showing members felt it was hard to get help.
RBL head Chris Simpkins said demand for its services was expected to increase.
"We know the total number of the armed forces community is set to decline, yet the demand for Legion support is predicted to increase, as the population ages and our beneficiaries' needs become more complex, especially amongst those leaving the Forces and those who are wounded, injured or sick," he said.
'First port of call'
Research in 2005 and 2010 found members felt it was difficult to get help, because of not knowing who to ask and what services were available. They also felt information was hard to access.
The charity has since set up a website with live chat and a contact centre.
Mr Simpkins said the research was used to modernise the legion and "meet changing needs".
"We will be more accessible, quicker to respond and extend our reach in the communities who need us most," he said.
"The Legion should be the first port of call in any circumstances throughout life for service personnel, veterans and their families."
Former soldier Clive Smith, who lost both legs in an explosion in Afghanistan in 2010, is among those who have been helped by RBL.
Mr Smith, from Cannock, Staffordshire, said: "If it wasn't for the legion opening my eyes to what was still available to me after injury then I wouldn't be in the kind of situation I am now where I'm driven and I'm focused again and I've got things that I'm aiming for."
Four of the five centres opened to the public earlier, with Cardiff's base opening in a couple of weeks.