Missing dog rescued from Devon cliff by RNLI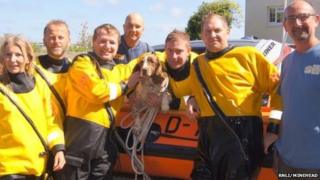 A dog which was missing for more than a week has been rescued from a cliff ledge and reunited with his owners.
Sprig the springer spaniel disappeared while out for a walk with his owners on 22 August near Foreland Point, Devon.
An RNLI lifeboat crew from Minehead, Somerset, found the nine-year-old dog on a ledge while on a training exercise on Sunday.
Sprig's owners said it was "the best news ever".
'Licking water off suit'
The crew approached the cliffs after believing a sheep was trapped on the ledge, when they noticed the dog further down the cliff.
Helmsman Andrew Escott said: "We went in as close as we could and then we could see it was a dog.
"It was about 30ft (9.2m) above the water and we couldn't work out how it had got in that position."
Mr Escott managed to jump ashore and climbed up to rescue Sprig.
"He had clearly been there for some time because he was licking water off my dry suit and he did seem rather pleased to see us," he said.
Owners, Mark and Susie Sanders, from Wheddon Cross, near Minehead, said: "We were coming to the conclusion that he must have wandered off and then been stolen.
"I just could not believe it when we had a call to say the lifeboat crew had spotted him and rescued him.
"It's amazing, the best news ever."