Banstead widow 'found starving' after CareFirst24 shut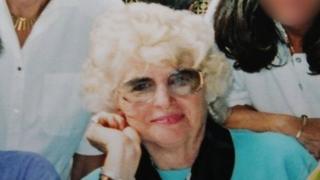 A woman was found dying at home nine days after her care agency was shut in a police raid, an inquest heard.
A community nurse found Gloria Foster, of Banstead, Surrey, lying on her bed in February 2013 following the closure of CareFirst 24.
The hearing in Woking was told the 81-year-old was taken to hospital but died two weeks later.
Surrey County Council suspended two employees and said it would take action after a report showed errors were made.
'Very seriously ill'
Rosemary Greigg, the nurse who found Mrs Foster, told the hearing at Woking Borough Council Civic Offices that when she let herself into Mrs Foster's home there was a "strong smell of urine", which made her realise something was not right.
She then found the widow fully clothed on her bed and phoned her doctor who called an ambulance.
Mrs Foster had been without food or medication since the agency had shut, the inquest was told.
Dr Geoffrey Robb, a consultant physician at Epsom Hospital, told the inquest she was "very seriously ill" when she was admitted to hospital and died a fortnight later.
The cause of death was found to be a pulmonary thromboembolism and deep vein thrombosis.
The agency Carefirst 24 was shut in 15 January 2013 after a raid by the police and UK border agency.
Surrey County Council was meant to provide alternative arrangements for Mrs Foster but failed to do so.
Council 'failed widow'
A report into her death by the Surrey Safeguarding Adults Board found there was a "serious mistake" in her care.
It also outlined how "professional omissions" were made by a social worker employed by the authority.
The county council apologised and admitted it had "failed" Mrs Foster.
The report set out 14 recommendations although the publication was criticised for not being independent enough by a Surrey county councillor, because support to the board was provided by a senior lawyer from the authority.
The inquest will resume on Wednesday and is expected to conclude on Thursday.