High noon for UKIP in Clacton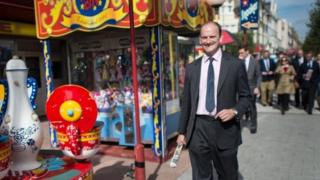 As he stood outside McDonalds in the centre of Clacton, the UKIP leader Nigel Farage was clear about the importance of the forthcoming by-election.
"This is high noon," he declared. "There is a lot at stake. This matters an awful lot to UKIP and the Eurosceptic movement."
The first walkabout with his new candidate, the former Conservative Douglas Carswell, went well. There were requests for autographs, lots of supportive comments and at least one person pushed money into Mr Carswell's hands. The only low point was when a woman walked past and shouted "traitor" at the former MP.
Douglas Carswell's defection has caught the other parties by surprise leaving UKIP to dominate the first few days of the campaign. But Mr Carswell has warned them that what he calls "the Westminster machine" will throw everything it has at both UKIP and him. He is expecting this to be a very nasty campaign.
Although often identified as a possible UKIP defector, it has only been over the last month that Mr Carswell started to seriously consider changing sides.
Three things helped him make up his mind and none of them involved Europe. The first was a speech by Nigel Farage talking about greater democracy within the party, the other two were long standing local issues: fears about more housing in the area and a shortage of GPs, Mr Carswell believed that ministers were not listening to people's concerns.
So while a lot of people are portraying his defection as being all about Europe, it is about much more than that.
Douglas Carswell has always believed in politicians being the servants of the people. For many years he has warned that the political class is out of touch with those who have elected them.
As well as being a long time campaigner for an EU referendum, he has also advocated open primaries (where the public as well as party members get to choose the local election candidates) and right to recall (where a by-election can be called by constituents if a certain proportion lose confidence in their local MP).
Local election gains
Although the Conservatives have embraced these ideas in principle, he feels they've only done it half-heartedly. He worries that the political class is unwilling to give up its grasp on power.
So while Europe will dominate the news coverage of this by-election. Mr Carswell will spend a lot of this campaign talking about politicians really serving the people. And at a time when many are disillusioned with main stream politics, it is a message which might play very well with voters.
The outcome of this result will have a profound impact not just on Westminster but on the politics of the Eastern region.
UKIP is more popular here than anywhere else in the country having made notable local election gains in Essex, Cambridgeshire and Norfolk. If it can win Clacton this will embolden its campaigners.
Seats like Basildon, Castle Point, Thurrock, Great Yarmouth, Kings Lynn and Peterborough will suddenly become UKIP targets. Other Eurosceptic Conservative MPs in the region may be tempted to jump ship. If UKIP doesn't win Clacton this could be the beginning of the end of its Westminster dream.
It is often said that by-elections don't really matter to those living outside the constituency and are quickly forgotten. Clacton will be different.