Dr Crippen's prescription ledgers fail to sell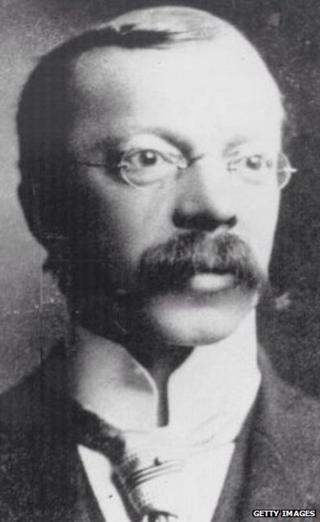 Prescription books used by the murderer Dr Crippen have failed to sell at auction.
Hawley Crippen was hanged in 1910 for poisoning his wife Cora, whose dismembered body was found under the basement floor of their house.
The two leather-bound ledgers were seized by police and used in the prosecution case.
They were expected to sell for up to £5,000 at Mullocks auctioneers in Ludlow, but failed to meet the reserve.
The documents cover a period from 1893 to 1896 when Dr Crippen worked for a firm that sold patent remedies.
The covers of the books are inscribed: "The preparations log books of Munyon Remedies London removed by warrant reviewed in the murder trial of Dr H H Crippen found guilty and duly hanged Nov 23 1910."
The ledgers contain a list of patients and the remedies they were given.
A manuscript attached to them gives a list of poisons.
---
Dr Hawley Crippen (11 September 1862 - 23 November 1910)
Crippen was hanged for poisoning his wife Cora, and burying her body under floorboards in his basement in 1910.
He was arrested by police in North America after trying to flee the UK with his mistress Ethel Le Neve, who had disguised herself as a young boy for the journey.
Crippen was the first criminal to be captured with the aid of wireless communication after the captain of the boat he was on sent a wireless telegram to the British authorities.
His trial at the Old Bailey in October 1910 lasted five days and he was found guilty by a jury after just 27 minutes of discussion.
He was hanged at Pentonville Prison in London on 23 November 1910.
Le Neve was acquitted of being an accessory to murder and emigrated to the US on the morning of Crippen's execution.
In 2010, scientists at the University of Michigan said new DNA testing showed that Crippen was not guilty of killing his wife.
---
Andrew Baud, from Mullocks, said Dr Crippen ran the London office of Munyon Remedies.
"Munyon actually sacked Crippen because he was spending too much time looking after his wife's stage career, who he ended up murdering," he said.
Among the items that sold on Tuesday was an original telegram announcing the end of World War One. The naval telegram sold for £550.