Amputee veterans to swim Channel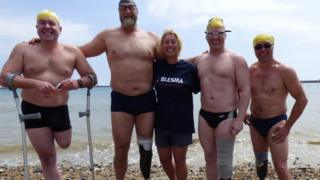 A team of amputee service veterans is preparing to swim the English Channel after an 18-month training programme.
Conrad Thorpe, Jamie Gillespie, Stephen White, and Craig Howorth, all single-leg amputees, will attempt to cross the 21 miles from Dover to Cap Griz Nez.
The swim, thought to be the first by an all-amputee team, will take place some time between Monday and next Sunday.
"You've basically got four middle-aged, one-legged blokes who are going to try and swim the Channel," said Mr White.
The four will be swimming under Channel Swimming Association (CSA) rules, which stipulate no wetsuits. The men will not wear their prosthetic legs out of choice.
"Swimming for a number of hours in water that is very cold does affect what's left of our legs," said Mr White.
"But we are all ready for that now.
"General fitness and being able to swim for reasonable distances is a challenge in itself but the cold water is the thing we've had to overcome."
Conrad Thorpe (50): Born and raised in east Africa. Served in the Royal Marines for 21 years, including with the Special Boat Service. He damaged his ankle while running, which led to an elective amputation in 2011. Now boss of an African security company.
Jamie Gillespie (39): Involved in a road accident and lost his left leg in 1994 while serving as a sapper with the Royal Engineers. He was discharged from the Army in 1995 and retrained as a prosthetist. He lives in Watford, Hertfordshire.
Stephen White (49): Serving as a rifleman with The Royal Green Jackets when a knee injury led to him losing his left leg above the knee. He was discharged from the Army in 1987 and is now a businessman. He lives in Newport, Essex.
Craig Howorth (46): Lost his right leg in a road accident in 2006. He served as a submariner in the Royal Navy from 1988 to 1993. He lives in Bacup, Lancashire and works as a trail leader for Military Mountain Bikers.
The exact day for the relay depends on the weather, sea conditions and the number of other swimmers but Mr White said it was likely to be Thursday or Friday.
The team's training has included taking part in open water swimming events such as the Chill Swim Coniston in the Lake District and the men completed a two-hour confirmation swim in Dover in June, overseen by the CSA.
CSA rules say relay team members must rotate in the same order throughout the swim and each one must swim for one hour each time he enters the water from the pilot boat.
The servicemen's JustGiving page has so far raised more than £1,140 for the British Limbless Ex-Service Men's Association (Blesma).