Mackerel shoals close to shore 'because of storms'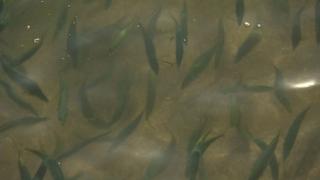 Winter storms could be the reason for large shoals of mackerel feeding close to the South West's shores, an expert has said.
The National Marine Aquarium said the storms could have released more nutrients that were supporting the whitebait, which feed the mackerel.
During the winter huge waves and strong winds battered coastal communities across the south-west of England.
During the summer, shoals have been seen off Dorset, Devon and Cornwall.
James Wright, assistant curator at the National Marine Aquarium, said: "We've seen big shoals of whitebait attracting the mackerel. This year they seem to be very close to shore.
"The whitebait have a very short lifespan and are prey for a lot of other species."