Signed Adolf Hitler bunker photo to be sold in Cheshire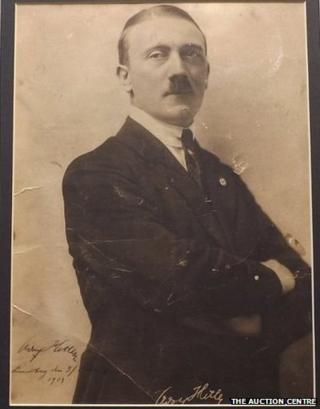 A signed photo of Adolf Hitler "discovered in the ruins" of his bunker in Berlin after his death is to be auctioned in Cheshire.
The framed picture belonged to war reporter William Forrest, who witnessed the Normandy landings and the crossing of the Rhine during World War Two.
Mr Forrest, who died in 1996, found the photo in the Führerbunker while reporting on the end of the conflict.
The photo has an estimate of between £12,000 and £18,000, auctioneers said.
The Auction Centre, in Runcorn, said the image was sold by Mr Forrest "four years before his death to someone who works within the film industry".
A spokesman said the current owner wished to remain anonymous and had not revealed how much he paid for it.
Mr Forrest, who reported for the News Chronicle during the war, wrote a letter saying he went into Berlin "with the first British troops".
The photo was taken in 1925, a year after Hitler was sentenced to five years in Landsberg prison for treason for attempting a coup in Munich, and eight years before he became chancellor of Germany.
It will be sold on 13 September.