Rotherham child abuse scandal: Ex-children's head 'must quit'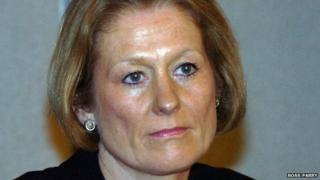 A former Rotherham children's services director is facing calls to resign from her current job in Australia over the town's child abuse scandal.
Sonia Sharp led Rotherham's children's department from 2005-2008 and now runs education services in Victoria.
At least 1,400 children were sexually exploited, mainly by men of Pakistani heritage, between 1997 and 2013.
Abuse survivors advocate Andrew Collins said she should resign from her current role "immediately".
Mr Collins told the BBC Ms Sharp's position in Australia was now "inappropriate".
Ms Sharp has apologised and said she wished she had been able to do more to prevent abuse.
Earlier this week she was backed by her boss at Victoria's department of education, Richard Bolt, who said: "I have no doubt that Sonia tackled the issue of child sexual exploitation in Rotherham with maximum commitment, professionalism and focus."
However, a care worker has described in detail how abusers would "brazenly" take girls as young as 11 from their children's home.
The care worker told the BBC men would arrive almost "every night" despite staff's efforts to protect the girls and the regular reporting of events at the home to police and care services.
'Evidence of failures'
Ms Sharp's successor Joyce Thacker remains strategic director of children and young people's services in Rotherham.
The council's chief executive Martin Kimber said Ms Thacker was "part of the solution in achieving better services" and should not resign.
Both Ms Sharp and Ms Thacker were interviewed by the inquiry team as part of its work for Professor Alexis Jay, who on Tuesday published a report that said at least 1,400 children were sexually exploited from 1997-2013.
In response to the findings, the government said inspections of children's services in Rotherham would be carried out early.
Graham Stuart, Conservative MP for Beverley and Holderness, has written to the chief executive of East Riding of Yorkshire Council asking what steps it is taking to investigate another former Rotherham care boss.
Pam Allen served as director of safeguarding at Rotherham Council from 2004 until 2009, and now holds a similar position at East Riding of Yorkshire Council.
Joe Anderson, the mayor of Liverpool, has said he is to discuss the Rotherham report with Ged Fitzgerald who is Liverpool's City Council's chief executive.
Mr Fitzgerald was chief executive of Rotherham Council from 2001-2003.
The mayor said he will be "seeking further clarification" about Mr Fitzgerald's role in Rotherham.
Mark Rogers, the president of the society of local authority chief executives, said Rotherham council had acted correctly in notifying places where former Rotherham staff had moved.
South Yorkshire Police was also criticised in the report and Independent Police Complaints Commission (IPCC) deputy chairwoman Rachel Cerfontyn said it raised "serious concerns" about the actions of the force.
As a result, the IPCC has told the force it should be informed of all "evidence of failures" in the way the force acted.
On Thursday Tracey Cheetham, deputy police and crime commissioner for South Yorkshire, resigned and backed David Cameron in calling for her boss Shaun Wright to step down.
Mr Wright resigned from the Labour Party on Thursday but has refused to quit his position as police and crime commissioner (PCC), despite also being urged to by Nick Clegg and Labour.