England's hidden sculptures and where to find them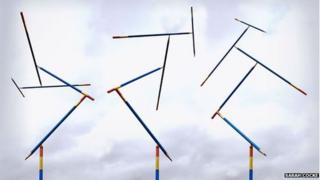 Following our recent article about hidden art in north-east England, many of you contacted us with some fine examples of sculptures tucked away across England.
"Swindon is home to a great deal of public art, some of which is easy to find and some of it less so," says Angela Atkinson.
"On the West Swindon sculpture trail, some of the pieces are by a cinema and a shopping area, but others are less easy to encounter."
She particularly likes a sculpture named White Horse Pacified.
"There's a terrific Antony Gormley on Portland in one of the old disused quarries called the Tout Quarry," says Steve Harris.
"There's a sculpture trail around the quarry, but it's not really signposted. It's so satisfying when you know about it."
Terry Powell said: "Along the same river the new BBC offices sit in Salford, is an entire sculpture park - the Irwell Sculpture Trail."
Lorraine Ashworth, from Rossendale, is also a fan.
"It has a plethora of sculptures just waiting to be discovered," she said. "And whilst some are easy to spot, even locals don't know about some of the installations."
Meanwhile John Huggins said his favourite was Peter Logan's rotating Pencils sculpture in the River Garden of the Premier Inn, Norwich, describing it as "mesmerising and inspirational".
Katie Wilson messaged us to say: "In Basingstoke we have woods called Great Binfields Copse, through which there is a meandering path that leads from houses to the local shopping centre.
"En route there are a couple of metal insects, wooden carvings and what is very nearly a totem pole. Very unexpected."
Geoffrey Stanford said he was a fan of the sculptures along the Tarka trail cycle route near Great Torrington in Devon.
"The fact they are made from old railway sleepers is particularly appropriate given the route follows a disused railway line," he said.
Roger Hawkins, from Morpeth, is equally proud of two sculptures near the Northumbrian market town - one widely known about, the other less so.
"Robin of Pegswood" is the affectionate nickname of a sculpture by Tom Maley on a roundabout near the former mining village of Pegswood.
The miner's posture, with his shovel aiming high towards the sky, is said by locals to resemble the famous outlaw with his bow and arrow.
But Mr Hawkins said: "The Ellington Miner, by the same sculptor as Robin of Pegswood, is hidden from most people.
"Whereas Robin is up at height on a traffic island on an important local route, so you have to slow down and can't help seeing it, the Ellington Miner is on a low plinth at the side of the road near the Ellington Welfare Social Centre.
"The traffic speeds past and there are no houses on that side of the road, so only people going to the welfare are ever likely to see it."
Finally, David Bennett said: "My favourite is Jonathan Woolfenden's Nothing to Worry About, next to the HMG paintworks in Collyhurst, Manchester."