Warwickshire Police's longest serving dog retires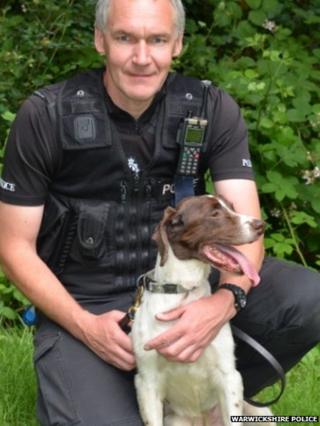 An "almost deaf" dog who has been a police force's longest-serving canine recruit is set to retire.
Jake, a Springer Spaniel, has worked for Warwickshire Police for 10 years - sniffing out drugs, firearms, ammunition and bank notes.
He has made 521 finds including about £4.5m of drugs, an assault rifle and £650,000 cash, the force said.
The 12-year-old dog, who also now serves the West Mercia Police area, will retire next week.
Jake will retire to Leicestershire, living with his handler PC Andy Crouch, who has four other dogs.
Hidden pistol
PC Crouch said: "I have a number of memorable moments working with Jake over the years.
"I was searching a caravan when Jake began barking and jumping up towards a high kitchen cupboard. I lifted him up where he was able to pull a piece of wood trim away between the cabinet and the ceiling."
The officer said he then spotted a hidden pistol in the gap made by the dog.
PC Crouch said another time he was talking to senior officer at a dance festival's entrance gate when Jake "pulled so hard on his lead I lost my grip".
"He then jumped through the open window of a moving car and indicated by barking and scratching on the steering wheel, whilst sitting on the startled driver's lap.
"Drugs were later found inside the steering wheel airbag compartment," he said.
For the past 18 months, the policeman has been using hand signals to control Jake because the dog has lost most of his hearing.