Stop-and-search: Police use of powers recorded and put online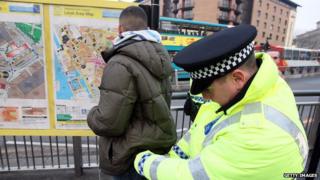 An online map showing exactly where police use stop-and-search powers is to be piloted by the West Mercia force.
Geo-mapping technology will record where officers use their powers to stop a person without grounds for suspicion, where serious violence is anticipated.
The results will be displayed on a national police website.
Home Secretary Theresa May said the scheme would "help communities hold the police to account for the use of their powers".
All 43 police forces in England and Wales have agreed to adopt a new government code of conduct on the use of Section 60 powers to stop and search members of the public.
Officers will need higher authorisation than at present to deploy Section 60 powers, and police will also soon allow public observers to watch a stop-and-search in operation.
West Mercia police said the online pilot would begin in the autumn and would run until the end of the year before being rolled out nationally from the beginning of 2015.
The Chief Constable of West Mercia Police, David Shaw, said where stop-and-search powers were used "proportionately and fairly" they have an important role to play in "helping to keep our communities safe".
"However, West Mercia Police has long recognised that more needs to be done to improve the use of stop-and-search, which includes addressing the numbers of black and ethnic minority people searched by our officers," he said.