Church collection box thief snared by his own diary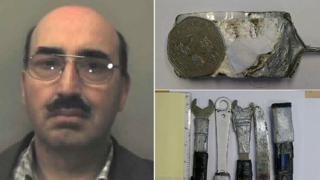 A thief who stole more than £37,000 from three church collection boxes was caught after police found full details of his crimes in his diary.
Stefan Bodnarczuk, 55, from Coventry, was jailed for 20 months at Northampton Crown Court earlier this month.
He admitted stealing from churches in Fotheringhay in Northamptonshire, Lincoln and the Yorkshire Dales.
The diary detailed whether the church was worth revisiting and what the weather had been like on each visit.
PC Paul Mitchinson said: "He was very methodical and was filling in how much he had spent on fuel and food, whether the church was open and what the weather was like."
Northamptonshire Police have also produced photos of an array of tools which were used to open collection boxes or fish takings out through their slots using sticky tape.
Northampton Crown Court also ordered that £37,740 could be confiscated from Bodnarczuk and given as compensation to the church dioceses.