West Midlands Ambulance Service called 661 times to one Birmingham home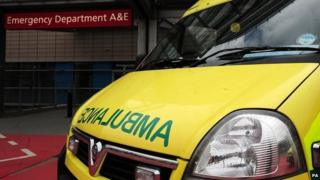 Ambulances were called to one Birmingham home 661 times but only 12 callouts led to hospital visits.
West Midlands Ambulance Service released details of the 10 top 999 callers in a year and the number of times people went to hospital.
BBC Midlands Today also discovered 396 callouts to a Newcastle-under-Lyme home, leading to 77 hospital visits.
Where people had "complex health-related disorders" calls were "entirely appropriate", said the service.
"The trust is aware of a number of high-volume service users who sometimes call the ambulance service every day or more," said a service spokesman.
"Some people do suffer from complex health-related disorders that at times require emergency intervention on a regular basis and although this may appear to be a 'misuse' of resources it is indeed entirely appropriate."
Lee Biddle, who suffered up to eight epileptic seizures each day from the age of 17, said he could not say whether the number of callouts to any address was high as he said "it depended on the condition".
Mr Biddle said: "If you see someone unconscious, it's obvious you've got to help that person. If you don't know how to put someone in an epileptic seizure the right way around, the ambulance has got to be called."
Robert Cole, the service's head of clinical practice, said it worked to put in place care packages so individuals had an alternative to calling ambulances frequently.
They could include agreeing a plan for an individual's ongoing treatment with their GP or involving other agencies to help people who had complex mental health disorders, he said.
He said the service was managing three categories of callers including those with complex health needs who genuinely needed an ambulance and those with complex needs who did not. He said there were also vexatious callers who might call to ask "to turn the heating down, let the dog outside or to water the plants".
'Top 10' 999 callers in the West Midlands
Residential addresses
Number of 999 calls
Calls leading to hospital visits
Birmingham B34
661
12
Newcastle ST5
396
77
Shrewsbury SY1
255
37
Stourbridge DY8
252
5
Birmingham B29
248
101
Birmingham B30
227
6
West Bromwich B71
148
11
Wolverhampton WV11
146
107
Walsall WS3
136
4
Wolverhampton WV10
134
29
Source: West Midlands Ambulance Service (from 1 July 2013 to 30 June 2014)