Devon and Cornwall Police may go bust, commissioner says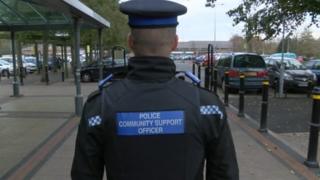 Devon and Cornwall Police could "go bust" in trying to meet funding targets unless big changes are made, the police and crime commissioner claims.
Tony Hogg said new ways of working to survive were required in the face of "huge budget cuts".
He said another £14m had to be saved over the next few years.
Mr Hogg wants more volunteers to help keep the streets safe and communities to work together to pay for special projects. The force has not commented.
Speaking to the Western Morning News, Mr Hogg said: "The stark reality is that we need to find innovative ways of delivering this vital service with less government money."
'No money'
Andrew White, chief executive of the commissioner's office, said if nothing is done there will not be enough money to run the force.
He told the BBC: "There were announcements a couple of months ago about the closure of front inquiry offices. The second part is trying to make officers more efficient.
"In the early part of next year officers will be equipped with mobile data terminals, meaning they spend less time returning to the station."
He said to balance the budget they need to find a further £14.1m in savings over the next three and a half years, something he says they can meet.
"In Devon and Cornwall we have hundreds of thousands of people in neighbourhood watch schemes," Mr White continued.
"Volunteering is something that has always been done but we need to increase it to have more special constables, and more people doing good things to keep the community safe, such as street pastors," Mr White said.
Mr Hogg said this could go further though with community groups investing in things like street signs.