Swindon to Kemble railway line redoubling work complete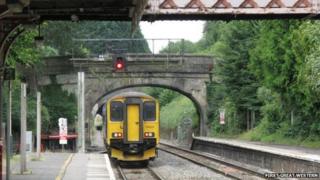 Work to increase rail capacity between Swindon and Kemble has been completed and trains are running on the two-track route.
The redoubling of the track means trains can now head simultaneously to and from Kemble in Gloucestershire into north Wiltshire.
The line was reduced to a single track in the 1960s as a cost-saving measure by British Rail.
Rail operator First Great Western said the £45m work was vital.
The project to add an extra track to the 12.5 mile (20km) stretch was approved in 2011 and began in January.
It is needed before the electrification of the Great Western Main Line (GWML).
Dan Panes, from First Great Western said: "This prepares the way to run those services more quickly and more frequently should we need to."
First Great Western said there would be no extra trains on the route until a new service franchise agreement in 2017.
A Network Rail spokesman said: "In the long-term it will increase the capacity to four trains an hour in each direction on the route."