Tilbury docks container death: Two men remanded in custody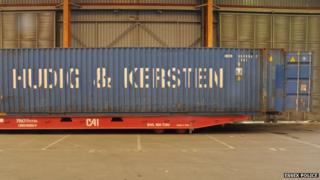 Two lorry drivers have been remanded in custody charged in connection with the death of a man found in a container at Tilbury Docks in Essex.
Stephen McLaughlin, 34, and Timothy Murphy, 33, both from Northern Ireland, are accused of conspiring to facilitate illegal entry into the UK.
The dead man was among 35 Afghan Sikhs found at the docks a week ago.
The men appeared during separate hearings at Chelmsford Magistrates' Court.
They are charged with conspiring with each other and "with other persons unknown" to "clandestinely convey 35 Afghan nationals by sea in to an English port which facilitated the commission of a breach of immigration law".
The alleged offence is said to have taken place between 1 and 17 August.
Mr Murphy, of Elmgrove, Londonderry, and Mr McLaughlin, of Rose Park, Limavady, spoke only to confirm their names and personal details.
They were remanded in custody and are due to appear at Basildon Crown Court during the week beginning 17 November.
The 34 surviving people included 10 men, nine women and 15 children. Their ages ranged from one to 72.
They are all in the care of the Home Office after being questioned by police and are seeking asylum in the UK.
They were discovered after dock workers heard banging and screaming coming from a container.
The dead man was identified as Meet Singh Kapoor, 40.