Rescuers save sailor from burning yacht off Seaham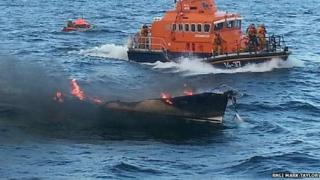 A lone French yachtsman has been rescued after his boat burst into flames off the North East coast.
The 36ft vessel caught fire at 05:45 BST off Seaham, County Durham.
RNLI rescuers said thick plumes of smoke were spotted by boat crews in the area and several went to the stricken sailor's aid.
The man managed to get into a life raft. The yacht eventually sank and he was winched to safety by an RAF rescue helicopter and flown to hospital.
He was shaken but unharmed, the RNLI said.
'Broken English'
According to the organisation, the boat was the sailor's home and he was sailing from Iceland to Holland.
Hartlepool RNLI coxswain Robbie Maiden said: "Fortunately the sailor was uninjured but it was very sad to see his yacht burn and then sink so quickly.
"We understand the boat was his home and it looks like he's lost nearly everything.
"He seems to have done all the right things in what must have been a very frightening situation.
"He launched the life raft correctly and had everything he needed to keep safe, including a lifejacket, flares and water. He's now being looked after by the Coastguard and we wish him well for his journey home."
Humber Coastguard said it received a number of 999 calls from the public and vessels in the area.
Watch manager Mark Ellis said: "When we spoke to this gentleman it was clear that he was foreign, but through broken English we were able to instruct him to discharge his personal locator beacon which gave us an exact location.
"However, due to the highly visible smoke on scene, many vessels were already en route to assist."
Three RNLI lifeboats from Tynemouth and Hartlepool were involved in the rescue.