Foreign tourist numbers rose fastest in SW in 2013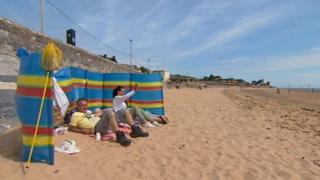 The number of overseas tourists visiting the South West in 2013 grew at a faster rate than anywhere else in Britain, according to VisitBritain.
Holiday visits from overseas increased by 48% during the summer season with spending up by 29% to £244m.
The South West welcomed 512,000 holiday visits in July, August and September, higher than the pre-economic crisis record of 404,000 visitors from 2006.
Malcolm Bell, Head of VisitCornwall, welcomed the figures.
Portugal or California
He said: "The last two summer months have also been wonderful - the sun has shone, the sea is as warm as Portugal or California and the beaches have been idyllic playgrounds and venues for creating life-long memories."
Figures produced by VisitBritain also found that German tourists made up the highest number of overseas visitors with 122,000 trips to the region in the summer of 2013.
During the whole of 2013, Russians and Saudi Arabians were among those visiting the South West in the smallest numbers but spent the most money on a visit.
The average spend per visit for Saudi Arabians was £2,865 and for Russians, £1,195.
Patricia Yates, Director of Strategy and Communications at VisitBritain, said: "Our figures reveal that the South West is now the go-to holiday destination for overseas visitors during the peak summer months.
"Not only is it the fastest growing region in Britain for summer holidays, but it's now overtaken pre-recession record levels."