RideLondon: 50,000 apply for bike ride in 72-hour period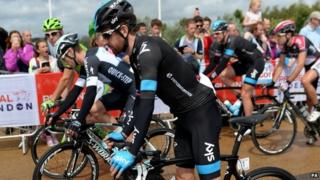 More than 50,000 cyclists have registered to take part in the 2015 RideLondon event in the 72 hours since the ballot opened, despite "biblical" rain during this year's event.
The ride, part of the Mayor of London's festival of cycling, takes place on 2 August 2015 in London and Surrey.
The organisers said the ballot would close when more than 100,000 people had registered.
A 36-year-old man died during the 2014 event after suffering a cardiac arrest.
Civil servant Kris Cook fell ill at Newlands Corner, near Guildford.
Almost £47,000 has been donated to his fundraising page for Woking and Sam Beare Hospices.
Event director Hugh Brasher said: "After conditions that have been aptly described as biblical, we are delighted to see that the enthusiasm of Britain's cyclists and would-be cyclists to participate in the Prudential RideLondon-Surrey 100 has not been dampened.
"This fantastic response underlines the popularity of the world's greatest festival of cycling."