Up to 20% of East Surrey Hospital A&E visits 'unnecessary'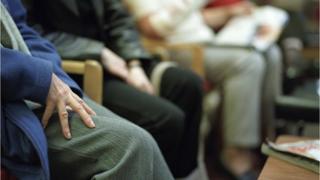 Up to a fifth of people attending A&E at Redhill's East Surrey Hospital do not need to go there, doctors say.
Surrey GPs want patients to consider services other than under-pressure A&E units but admit the NHS is "confusing".
Caterham GP Tony Clarke said the area could try a phone app currently used in Sussex to tell people where to go.
Mr Clarke, lead clinician for urgent care in east Surrey, revealed the figures as an A&E awareness campaign was launched in north-west Surrey.
He said: "Around the East Surrey Hospital, we reckon there are about 100,000 people who attend A&E every year and we certainly feel between 10,000 and 20,000 could easily be diverted elsewhere."
But he expressed sympathy with patients and said he understood it was difficult to tell the difference between a walk-in centre, a minor injuries centre, and an out-of-hours centre.
Primary care 'inadequate'
East Surrey Hospital, which serves Sussex and Surrey, said it fully supported the latest campaign by North West Surrey Clinical Commissioning Group (CCG).
The hospital said it saw more than 82,000 patients in A&E from April 2013 to March 2014.
In a statement, it said: "The whole healthcare system must work together to offer patients the care they need.
"We welcome the work of the CCGs in helping patients access the most appropriate service for their illness or injury."
North West Surrey CCG said hot summer weather led to a significant increase in attendances at St Peter's A&E in Chertsey for heat-related cases such as dehydration - when many could have been dealt with through self-care or a visit to a pharmacy.
It said other services included NHS 111, walk-in centres and GPs.
But Roger Goss, from Patient Concern, said primary care provision - services providing the first point of contact for patients - was "inadequate".
He said 8.5% of the total NHS bill went on primary care but 90% of consultations took place there and called for 2.5% of the total NHS budget to be moved out of hospitals and into those services to keep them open longer with more doctors.