One dead in light aircraft crash near Buckingham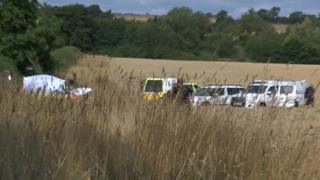 A man has been killed in a light aircraft crash near Buckingham.
Thames Valley Police said the aircraft was found at Hedges Farm, off London Road, north of Padbury, shortly after 19:40 BST on Wednesday, and officers were still at the scene on Thursday.
The man, aged in his 60s, and the only person on board, died at the scene. No one on the ground was hurt.
The Air Accidents Investigation Branch (AAIB) confirmed it had begun an investigation.
The model of plane is yet to be confirmed but police said it was registered to Bournemouth Airport.
Plane 'stuttering'
An airport spokesman said the aircraft had not been there since 6 June.
Buckinghamshire Fire and Rescue, which sent three crews from Buckingham, Winslow and Great Holm, said the Bournemouth Airport control room had assisted firefighters with technical information to help them isolate the engine.
Butcher Tracey Carroll from Padbury Meats said she was in her back garden in the village at about 19:30 BST when she noticed a "plane circling, going back and forth".
"It sounded like it was stuttering," she said.
"It obviously was in distress, trying to find somewhere to land."
She said she did not realise the plane had come down but shortly afterwards she saw helicopters circling, which went on for "a good hour".
"We thought it was a really bad car crash on the Buckingham road because of all the police cars, fire engines and helicopters you could hear," she said.