Scam victim fell for 'charming' fraudster on match.com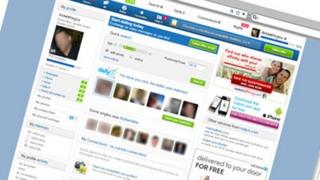 A victim of an online dating scam was taken in by a "charming" fraudster who was going to be her "prince", a court has been told.
The match.com website was used to gain the trust of women before persuading them to hand over large sums of money, Winchester Crown Court heard.
Four people, from Southsea and Titchfield in Hampshire and Hermitage in Berkshire, deny involvement.
The court heard they gained a total of £220,000.
Simon Edwards, prosecuting, told the jury a number of women responded to the fake profile of an "attractive middle-aged man", usually called James Richards on the match.com website.
Once the relationship developed, he said the conspirators would start requesting money to help him pursue a £1.5m inheritance through the Indian legal system.
'Madly in love'
In a statement read to the court, Deborah Cole said that she was first contacted by "James Richards" in May 2013, describing him as "very charming" and "attentive".
"It all seemed so natural and rolled off his tongue, it didn't sound made up, it almost seemed rehearsed.
"James was very clever, he never directly asked for the money but he put you in the position where you wanted to help, you felt drawn in."
When she found out about the fraud, she said she was "absolutely distraught".
"I was shocked, I was crying, I felt I had been completely taken advantage of by a man who portrayed he was madly in love with me - but it was all about the money.
"I wanted to find a relationship and find someone to spend the rest of my life with, he was going to be that man, he was my prince."
Ms Cole said she gave Richards £700 for legal fees but said she became suspicious when his "solicitor" asked her for a further £10,000 in an email.
Brooke Boston, 28, of Common Lane, Titchfield, and Eberechi Ekpo, 26, of Adair Road, Southsea, both deny charges of conspiracy to defraud and money laundering.
Monty Emu, 28, of Adair Road, Southsea, and Adewunmi Nusi, 27, of Bomford Close, Hermitage, both deny money laundering.
The trial continues.