London men charged as part of South West courier fraud probe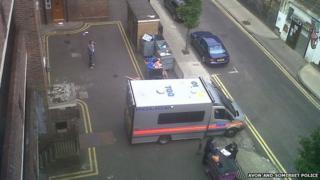 Two men have been remanded in custody by Bristol magistrates and another released on bail as part of an inquiry into a £1m fraud in south-west England.
Rahim Choudhrey and Abdul Shafee, both 18, of Tower Hamlets, east London are accused of 10 counts of conspiracy to defraud victims out of £168,000.
Some 300 mainly elderly people have been tricked out of money, police said.
Many of those were fooled into sending money to fraudsters pretending to be officers investigating crimes.
Mr Choudhrey and Mr Shafee were arrested on Monday by the south-west regional organised crime unit and the Metropolitan Police.
A third man, also aged 18, who was arrested as part of the investigation has been released on police bail, pending further inquiries.
A three-month investigation has been led by Zephyr, the South West regional organised crime unit, supported by the Avon and Somerset, Devon and Cornwall, Dorset, Gloucestershire and Wiltshire police forces.