East Midlands Airport admits queue problems at arrivals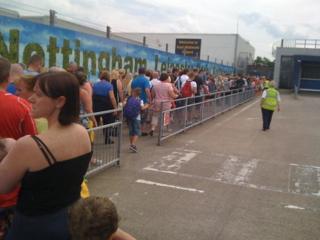 East Midlands Airport has admitted it has problems with queuing at arrivals after passengers complained of lengthy delays getting back into the country.
Holiday-goers said they were forced to wait in the rain for up to an hour as passports were checked.
The airport said it needed to make improvements to speed up the process, including "the right number of staff".
The Home Office said the summer period was the busiest for its border staff but it refused to compromise security.
Passenger Charles Allen returned from a holiday in Spain only to have to wait for an hour.
"We had to wait outside Border Control in the rain, in the dark and cold, 15C colder than Spain. There was a long queue all the way through the inside and snaking all the way outside," he said.
Howard Ebison, from the airport, admitted there was a problem, some of which related to the fact it was outgrowing the building.
He added that it was most pronounced on Sunday evenings in summer when most scheduled flights arrive.
"The schedule is only one part of it. We work really closely with UK Border Agency. We have identified with them there have been some issues over the summer with regard to having the right number of staff at the right time," he said.
He said that once work on expanding the departures lounge was complete there were plans to improve the arrivals area.
A spokesman for the Home Office said staff worked hard to admit people to the UK and it was working closely with the airport to cut waiting times.
"The summer period is one of the busiest times of the year for our airports and ports but we will not compromise border security and passengers must go through our strict passport controls," he said.