East Midlands sees fastest growth in England, RBS report says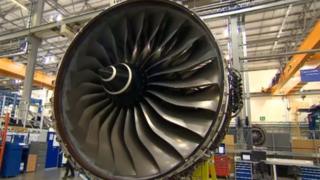 Business has grown faster in the East Midlands than any other English region this year, according to a Royal Bank of Scotland (RBS) report.
Its economy expanded by 4% in the last 12 months and it is one of only four regions where the economy has returned to pre-recession levels.
Leicestershire's Local Enterprise Partnership said manufacturing was one reason for the region's success.
Unemployment also fell faster than in any other region last year.
The RBS regional growth tracker for the past quarter said distribution and retail industries, which make up a fifth of the the region's economy, had contributed "substantially" to its success.
The economy is almost 4% bigger than a year ago - London's economy grew by 3.5% - and growing twice as fast as it was last year. A total of 104,000 jobs were created last year, it said.
North Northamptonshire and Leicestershire and Rutland were the highest-performing areas in the East Midlands, which also includes Derbyshire, Nottinghamshire and Lincolnshire.
Head of Leicester and Leicestershire's LEP said Mandip Rai said the region's economy was "resilient".
"We don't rely on one particular sector within manufacturing - there's a broad range," he said.
"Also being in the centre of the country helps us and having the largest cargo airport in the country in the region."
---
East Midlands' success stories
Andrew Harrison from RBS said the region's strong reputation for manufacturing, centred around international brands like Rolls-Royce in Derby, has been a "real strength".
---
London, the East Midlands, the South West and the South East are all now at pre-recession levels, according to the report, which said it expects the rest to "follow suit" later this year.
"More growth has meant more jobs, with large falls in unemployment over the past year in all UK regions, in particular in the Midlands," said Rupert Seggins, RBS's senior economic adviser.