Man charged over Borneo killings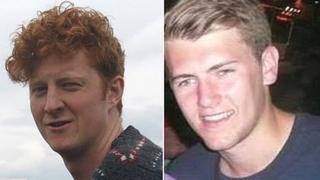 A 23-year-old man has been charged with the murder of two British students earlier this month in Borneo.
Malaysian fishmonger Zulkipli Abdullah has been charged with stabbing Newcastle University students Neil Dalton and Aidan Brunger to death.
The men, both aged 22, died earlier this month following an argument in a bar in the city of Kuching.
Four other suspects have not been charged and will be witnesses. A guilty verdict carries the death penalty.
The defendant has already appeared in a local magistrates' court and no plea was taken, the BBC understands.
Mr Dalton, from Ambergate, Derbyshire, and Mr Brunger, from Gillingham, Kent, had been in the last week of work placements at a hospital.
Honorary degrees
An inquest into their deaths was opened in Derbyshire on Monday and adjourned to 30 September.
Derby and South Derbyshire Coroner's Court heard the men were stabbed following a row in a cafe or bistro in Kuching on 6 August.
Their bodies were returned to the UK last week and formally identified by their fathers.
The case is being investigated by officers in Malaysia, assisted by Derbyshire Police.
Both students have been awarded posthumous honorary degrees by their university.
Their families were not at the inquest opening.