Monkey World rescues Maldives drugs raid slow loris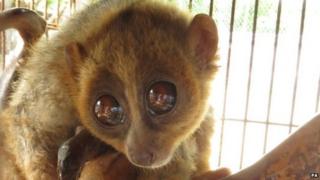 A primate confiscated by police during a drugs raid in the Maldives has been flown 5,000 miles to begin a new life in the UK.
The Bengal slow loris, about the size of a bag of sugar, had been living on a prison island near Male, the capital of the Indian Ocean islands.
It was kept in a birdcage and fed baby food and bananas while officers searched for a permanent home.
The primate will be re-homed in Devon by the Dorset-based Monkey World.
'Huge loss'
Officers in the Maldives named the loris, believed to be male, Kalo which translates as "buddy".
Kalo, one of only a few thousand lorises in existence, had been living on the prison island of Dhoonidhoo for eight months as other countries were unable to take the animal.
Alison Cronin, who runs the ape rescue centre at Monkey World, brought the case to the attention of the British authorities and requested permission for Kalo to be brought to the UK.
Ms Cronin then approached British Airways, which agreed to fly Kalo to England for free.
She said: "It would have been a huge loss if a healthy, vulnerable animal had to be destroyed, but it was also really important for us to support the Maldivian authorities, and to send a message to other countries around the world that vulnerable creatures don't need to be put down."
Kalo will spend the next four months in quarantine at Monkey World.
It is then expected to begin a new life at the Shaldon Wildlife Trust in Devon with a slow loris called Doris, which has been without a companion since arriving in the UK 15 years ago.