Thames Valley Police's electronic item-loss numbers 'up 200%'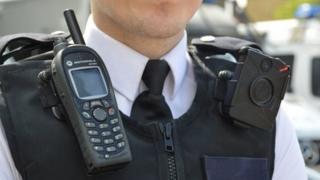 The amount of electronic equipment lost by Thames Valley Police (TVP) has more than tripled, figures show.
A Freedom of Information request shows it lost 166 items, including mobile phones, laptops and a computer - up from 47 in 2012 and three in 2011.
A TVP spokesperson said it was due to the fact mobile technology was increasingly being used by officers.
However, encryption software and password-only access had meant there had been no reported data breaches.
'A risk'
In 2013, TVP lost 113 mobile phones, 46 Blackberry mobiles, four laptop PCs, a computer and two USB sticks.
Among the thefts was a number plate-reading computer.
In 2012, the force lost 15 mobile phones, 31 Blackberry mobiles and one PC.
Peter Neyroud, former chief constable, accepted the numbers were "high".
"I would have probably had one of those 'I do not believe it' moments over the scale of what appears to have been missed this year," he said.
"We used to make sure we charged people for the loss and in some circumstances we disciplined for the loss because there is a risk."
Mr Neyroud added the devices were unlikely to contain the most sensitive data and would be used to access information through the Police National Network.
A TVP spokesperson said the force was increasingly using mobile technology. They said the number of BlackBerrys lost last year was less than 2% of those issued to its staff and officers.
The spokesperson said: "In some instances, while operational, devices can be lost while apprehending offenders or conducting searches over rough terrain."