Hadrian's Wall: Celebrating the pioneers behind the wall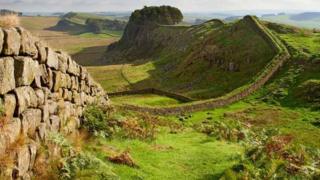 The pioneers who have helped protect and record Hadrian's Wall for centuries are being celebrated in an exhibition stretching the length of the site.
Built in the years AD 122-30 by order of the Emperor Hadrian, it took about 15,000 men six years to build the Roman frontier defensive structure.
Stretching for 70 miles (118km) from Wallsend in the east, to Solway Firth in the west, it once marked the northernmost extent of the Roman empire.
Although the wall had a military function for keeping watch and patrolling, over time it attracted wider settlement and trade to its forts and garrisons.
For the first time, the stories of the archaeologists and antiquarians who contributed to the wall's survival will be on display at 11 sites, including the Senhouse Roman Museum in Maryport and the Great North Museum in Newcastle.
Each portrait, on loan from the National Portrait Gallery, will be displayed with the life story and achievements of the individual at the site associated with their work, including the story of John Hodgson.
Through careful study of inscriptions, the clergyman and antiquarian concluded the Wall was built by the Emperor Hadrian and not by Emperor Severus, which had previously been thought.
It was many years before this was generally accepted.
---
What the Romans left behind
•The Roman army left Britain more than 1,500 years ago
•They built new roads, baths and sewers
•New plants and animals, such as parsley, sweet chestnut and chickens were also introduced
•They brought measurements such as miles, feet and inches
•The Romans also introduced Christianity to Britain
Source: BBC History
---
Project director Nigel Mills, said: "If it wasn't for these people and the work they did, Hadrian's Wall would not have survived for us to admire and wonder at today and we would not appreciate the fascination of the past.
"These people were famous in their own time and each is a fascinating character in their own right.
"It helps us appreciate just how large the World Heritage Site is and how each site within it has a different story to tell and a different experience to offer."
Wall Face: Portraits of people who revealed Hadrian's Wall is on display until 9 November.
---
Wall Face locations