Ballot opens for 2015 RideLondon place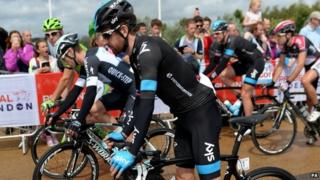 Cyclists wanting to take part in next year's RideLondon event have been encouraged to put their names forward in a ballot.
The bike ride, which begins in London and goes through Surrey before heading back to the capital, includes amateur and elite cyclists.
The 2014 event, which featured Sir Bradley Wiggins, was almost cancelled due to heavy rain.
During the ride, a 36-year-old man died following a cardiac arrest in Surrey.
Civil servant Kris Cook fell ill at Newlands Corner, near Guildford.
The organisers said they expect demand for a place will be high after more than 20,000 took part in the 2014 event.
They said the registration system will remain open until Monday 5 January 2015 or until 100,000 registrations have been received; whichever is the earlier.