Brittany Ferries vessels face time out of service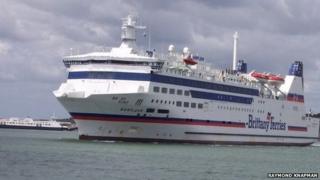 Six ferries are to be taken out of service at various points over the next three years as part of a £320m improvement programme.
Brittany Ferries said its Normandie, Cap Finistere and Barfleur vessels were to be fitted with exhaust filters in order to reduce sulphur emissions.
Mont St Michel, Armorique and Pont-Aven will be converted to run on liquefied natural gas.
The ships link Portsmouth, Poole and Plymouth with Spain and France.
The work to fit "scrubbers" to reduce sulphur emissions will cost between £7m and £10m per ship and is needed to comply with EU regulations.
Brittany Ferries said it had planned the work for quieter periods and advised customers to consider using alternative ports and destinations.
The ferries will be out of service from:
Normandie (Portsmouth-Caen): Mid-October 2014 to end December 2014*
Cap Finistere (Portsmouth-Bilbao/Santander): Mid-January 2015 to mid-March 2015
Barfleur (Poole-Cherbourg): Mid-March 2015 to mid-May 2015
Mont St Michel (Portsmouth-Caen): September 2015 to December 2015
Armorique (Plymouth-Roscoff): January 2016 to May 2016
Pont-Aven (Portsmouth-Santander/Plymouth-Santander/Plymouth-Roscoff/Cork-Roscoff) - November 2016 to March 2017
*The high-speed Normandie Express ferry will operate the Poole-Cherbourg route from 30 April-14 May to cover the bank holiday period.