Cheltenham ambulance crash leaves two men badly injured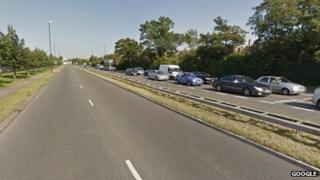 Two pedestrians were seriously injured when they were hit by an ambulance car which was responding to an emergency in Cheltenham.
A 30-year-old man from Cricklade, Wiltshire, and a 32-year-old man from Bristol were taken to hospital after the crash at 00:20 BST on Sunday.
The paramedic, who was driving on the A40 near GCHQ, was "shaken but uninjured", police said.
Officers shut the road for five hours to conduct an initial investigation.
The South Western Ambulance Service Trust said it was carrying out a "thorough investigation".
It has suspended the driver of the rapid-response car, but said that was standard practice during an investigation such as this.