Elected mayors would prevent 'brain drain' from north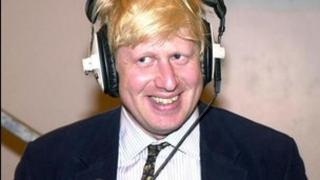 Elected mayors could create thousands of new high-tech jobs in the north of England, according to one think tank.
It is claimed having a Boris Johnson-style figure in northern town halls could reverse the traditional 'brain drain' - where talented graduates have been forced to move south to find work.
It its report Silicon Cities, the centre-right think tank Policy Exchange says the government should put 'rocket boosters' under the idea of directly elected mayors to ensure that all parts of the UK benefit from the country's world class technology sector.
The report points to figures which reveal that up to 55% of graduates from major universities leave the Yorkshire and the Humber region to further their careers.
Elected mayors would be better placed to attract 'tech clusters' of companies away from the south east of England, according the report's author.
Direct accountability
Speaking to BBC Look North, Eddie Copeland, head of technology policy at Policy Exchange, said: "Elected mayors provide a single figure, a visible line of direct accountability companies can work with to get things done."
Some English cities including Bristol, Leicester and Liverpool already have directly elected mayors.
Chancellor of the Exchequer George Osborne has said introducing a new generation of city mayors is a key part of creating a 'northern powerhouse' - where more money would be spend locally on transport and other infrastructure projects.
Mr Osborne does, however, face considerable opposition to his proposal to 'put a Boris Johnson in every big city'.
High unemployment
Neil Foster, TUC Policy and Campaigns Officer, said: "There's very little evidence that business would benefit from elected mayors.
"Hartlepool had high unemployment before it had a mayor and it still has high unemployment today."
In a series of referendums in 2012, voters in a number of English cities including Birmingham, Leeds and Manchester rejected the idea of adopting an elected mayor.