Borneo stabbed students awarded honorary degrees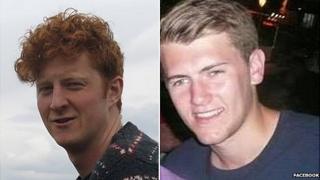 Two students who were killed in Borneo have been awarded honorary degrees by their university, it has emerged.
Aidan Brunger and Neil Dalton, both 22-year-old Newcastle University students, were stabbed in a bar in Kuching.
Mr Brunger's family, from Kent, paid tribute to him and revealed he had been awarded an honorary Bachelor of Medicine degree.
The university said both men had been honoured. An inquest into their deaths is to be held in Derbyshire next week.
In a tribute issued through Kent Police, Mr Brunger's family said they wanted to acknowledge the enormous outpouring of love towards Mr Brunger since he died.
'Fifth man held'
He grew up in Kent before going to Newcastle to study medicine, and supported Newcastle United FC from a very young age, they said.
Mr Brunger had completed four years of study and was about to begin his next phase of medical training when he died, the family added.
He had been working at Sarawak Hospital, in Kuching, on a work placement as part of his degree.
"In recognition of his achievements Newcastle University have awarded Aidan an Honorary MBBS [Bachelor of Medicine] degree," they said.
"The family is so proud that, whilst he has been unable to complete his degree, he will be remembered as Dr Aidan Brunger."
Mr Dalton, from Ambergate, Derbyshire, and Mr Brunger, were killed on 6 August.
Malaysian Police have said four local men have admitted the killings, and a fifth man has also been arrested.
The attack happened in the Jalan Padungan area of Kuching in Sarawak province.
Tests showed three of the suspects had taken the drug crystal meth before the attack.
An inquest will be held at the Derby and South Derbyshire Coroner's Court on Monday.