East Anglia rail firms apologise over service disruption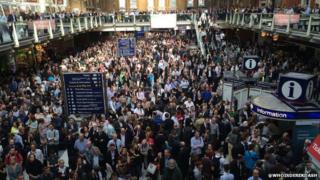 Bosses of two rail firms have apologised to train users for a string of problems in East Anglia.
Thousands of commuters were disrupted this week by engineering work delays.
In a joint statement, the managing directors of Abellio Greater Anglia and Network Rail Anglia, said: "We are genuinely sorry."
The apology was met with a mixed response from rail users and for Greater Anglia is the second such move in two months.
Managing directors Jamie Burles and Richard Schofield put the delays down to track, signalling and overhead line issues, engineering work problems, train faults, deaths on tracks, flooding and road vehicles colliding with bridges.
"Performance has been well below the standards you rightly expect and we intend to deliver," they said.
"We are acutely aware of the frustration and inconvenience felt by our passengers when things go wrong, so we are taking urgent action to improve performance."
While some rail users responded to the statement - issued via Twitter - saying it was "a nice apology", others urged Abellio Greater Anglia to back up its "compassion" with lower rail fares.