Monarch to stop services from East Midlands Airport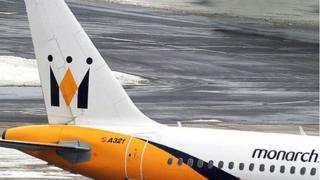 Monarch Airlines has announced it will stop flying from East Midlands Airport next year.
The company started operating from East Midlands after low-cost airline BMI Baby ceased trading in September 2012.
It currently operates 34 flights a week from the airport to nine destinations, mainly in and around the Mediterranean.
A spokesman said the decision came after a review of services. The final Monarch flight will take place at the end of April 2015.
Destination choice
Andrew Swaffield, chief executive of The Monarch Group, said: "Monarch's success in the future depends upon us delivering the best possible operation and quality of service for our customers - and at sustainable levels of profitability.
"It is for these reasons that we are taking important decisions to reshape our base network and flying schedule next year."
Andy Cliffe, managing director of East Midlands Airport said: "Whilst it is regrettable that the decision has been made to close their base here, huge choice remains on the same routes, served by Thomson, Thomas Cook, Jet2.com and Ryanair.
"At present, we are working hard with our aviation partners and we are confident that the services offered by Monarch on these popular routes will be replaced, ensuring our customers can easily travel to these destinations."
The airport currently serves more than 90 destinations, including long haul locations such as Cancun and Florida.