Gatwick Airport flight path consultation 'misleading'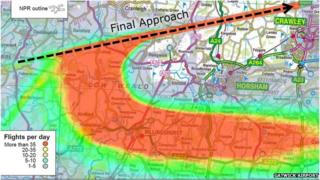 A public consultation on new flight paths to and from Gatwick Airport is "unfit for purpose" and "misleading", opponents claim.
The consultation ends at midnight on Friday, but a Kent MP said the documentation did not show the exact flight paths being consulted on.
Gatwick Airport said it was a "very technical subject" and "not easy for the public to understand".
A six-month trial of the new flight paths ended on 8 August.
The trial to find out how the airspace could be used more efficiently to make the most of Gatwick's single runway faced opposition from residents in Surrey and west Kent.
Duncan Leslie, managing director of Hever Castle, said the attraction may have to close if it got a reputation for being affected by aircraft noise.
He said: "The consultation document is not very easy to understand. There will be some who say some of the questions are misleading."
Under flight path
Greg Clark, Conservative MP for Tunbridge Wells in Kent, has written to the chief executive of Gatwick Airport voicing his concerns.
He wrote: "I am afraid to say that the consultation has been unfit for its purpose.
"The purpose was to have been to gauge reaction to particular precise routes, yet the exact route has not been disclosed to the pubic."
Paul Beresford, Conservative MP for Mole Valley in Surrey, said: "The shift in the [flight] paths means that people living in areas where they did not get a concentration of aircraft, suddenly are."
"If people buy under a flight path, they buy knowingly, but the people being hurt now by these flights did not buy under the flight path."
Tom Denton, head of corporate responsibility at Gatwick Airport, said: "This is a very technical subject, and it is not easy for the lay person to understand."
He said the airport had tried to strike a balance between not being too technical while giving enough information.
He said that after reviewing all the feedback received, a further period of consultation may be held "if required".
The consultation has been extended for 24 hours after a technical problem meant its website was unavailable in the early hours of Thursday.