Zeebrugge disaster: Seaford's Jane Hind tells of family loss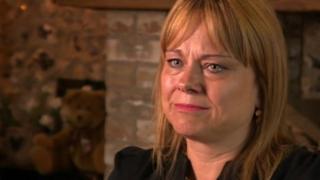 A woman who lost her mother, sister and uncle in the Zeebrugge ferry disaster of 1987 has spoken publicly about her grief for the first time.
Jane Hind should have been sailing on the Herald Of Free Enterprise when it capsized just off the Belgian coast, but her sister had gone in her place because she was busy with work.
When the vessel went over as a result the ferry's bow doors not being closed, three members of her family were among the 193 passengers and crew who died.
"My mum was my whole life," Ms Hind said. "How was I ever going to live without her?"
The publication of a book on the capsizing has helped her deal with the tragedy and talk more openly about the events of that day, more than 25 years ago.
Ms Hind, who lives in Seaford, East Sussex, said it was a coincidence her family were on board.
The three were returning from a week in Eindhoven and decided to get an earlier crossing back.
Ms Hind had been out after work that night, and first heard there had been an accident or a problem with the ferry when she got home.
She remembers how she, her stepfather and her brother-in-law had to wait to hear if their family were on the vessel.
Aged 20 when it happened, she spent that night sitting in the bathroom, having to wait until the morning to get confirmation.
She finds it impossible to recall what went through her mind as she waited for news, but she certainly remembers that after hearing her family had died, she convinced herself it was not true.
Because she never saw their bodies, she imagined they had not boarded the ferry or had perhaps even survived.
"The funeral directors recommended because they'd been in the water for so long, that they would be totally distorted, we wouldn't have even recognised them, and they just recommended that they didn't want me to have that memory in my head of them for the rest of my life, to remember them as they were," Ms Hind explained.
Stories of what happened on the ferry emerged during the years that followed, including an account from someone who heard the words, "I love you Terry".
"My uncle's name was Terry," she said. "They checked the list and there was no other Terry on the boat.
"They believe my sister and my uncle were found close to each other, so we then think it was my sister that was saying that."
When asked how she had coped with her loss, Ms Hind said: "I've always set myself a target to try and be half the woman my mum was. And if I can achieve that then that is what keeps me going."
She also said she still had her brother, her other sister and her niece, who were all close, as well as having very good friends around her.
"She wouldn't have wanted me to be sad for the rest of my life," said Ms Hind. "My mum would have wanted me to be happy and carry on."
More than two decades on, Ms Hind says that on a day-to-day basis she is fine.
"I have a good job and I have great people round me and great friends but sometimes in my own little world, you know, you just relive it all again," she said.
"I can be driving home from work sometimes, and I just start going through things in my head."
Ms Hind said she did not want to blame anyone for what happened because it would not bring her family back.
"I think I've got to let it go, because otherwise I think you'd get that hatred build up, and I'm not a person who hates people," she said.
---
The Herald of Free Enterprise disaster
About 473 passengers were on board, 80 crew, 84 cars and 36 lorries
The ferry backed out of berth five minutes late and the bow doors were still open, with no indicator lights installed on the bridge to alert the crew
The weather was good with a light south-easterly breeze and very little or no swell
The centre of gravity inside the hull of the ferry was moved when the large amount of flooded water on the car deck began to slosh around
The ferry capsized and ended up stuck on a sandbank, over half-filled with water that was barely above freezing
An inquiry named three crew members, including the captain as well as Townsend Car Ferries Ltd, as being responsible for the disaster
The ferry was later renamed but scrapped in 1988
In 1989, the UK's Marine Accident Investigation Branch was formed as a direct result of the disaster. The Zeebrugge trial also paved the way for the Corporate Manslaughter Act, which came into force in 2008.
Source: Iain Yardley, Ninety Seconds at Zeebrugge, The Herald of Free Enterprise Story
---
Even though the ferry went over in shallow water, 100 yards (91m) from shore, 193 people lost their lives on the Townsend Thoresen ferry that night, on 6 March 1987.
A coroner's inquest returned verdicts of unlawful killing, and a public inquiry identified negligence on the part of the ferry operator.
In 1989, the company was charged with corporate manslaughter, but the case collapsed because of insufficient evidence.
Author Iain Yardley, who has recently published Ninety Seconds at Zeebrugge, said he wanted to bring all the stories from the disaster together.
He said Ms Hind's story had been particularly poignant.
"It was her most private thoughts about the people she loved most in the world," she said.
"She was thrown into extraordinary circumstances...She had to cope with a lot. She lost her mother, her uncle, her sister. She didn't really know what had happened to them on board. And it's a kind of guessing game as to what did happen."
Mr Yardley said many people who were involved in the disaster had managed to move on with their lives and had been strengthened by their experiences.
"I have real admiration for them. I don't know how I would have coped personally," he said.
Ms Hind has welcomed Mr Yardley's book.
"I am very proud of my family that died," she said. "I'm very proud of them, and really this for me is like a tribute to them - they can be remembered forever."