Family tribute to Borneo stab death student Neil Dalton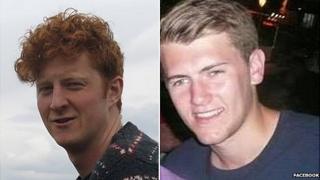 The family of one of two Newcastle University medical students stabbed to death in Borneo have spoken of the loss of a "caring and thoughtful young man."
Neil Dalton's parents and brother paid tribute to the 22-year-old, who was killed with Aidan Brunger while they were working at a hospital in Kuching.
Mr Dalton, from Derbyshire and Mr Brunger, also 22, from Kent, died on 6 August after a row in a bar.
Four local men have admitted the killings, according to police.
In a statement released through police, Jan and Phil Dalton said: "We are just a normal family and we cannot believe what has happened.
"Neil was a caring, thoughtful and witty young man, who never thought twice about helping others.
"He achieved so much and made so many friends in such a short time. We are so very proud of him.
"Neil was a hard worker and very academic. He kept himself fit and was very sporty, involving himself in many football and cricket teams over the years.
"Neil enjoyed cycling and running and was always up for a challenge."
Mr Dalton's brother Glen added: "Neil was a best friend to many.
"This is evident from the number of his friends who have contacted me and referred to him as this and have passed on their happy memories that they shared with him. He will be sadly missed by so many."
The attack happened in the Jalan Padungan area of Kuching in Sarawak province.
Tests showed three of the four suspects had taken the drug crystal meth before the attack.