Bamber Bridge robbery leads to 'first' Croatia extradition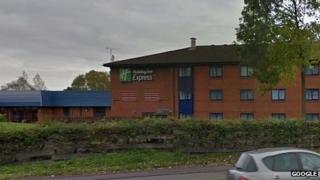 A man has been brought from Croatia to face a robbery charge, in what police have said was the first extradition from the country to the UK.
Lee Dunn, 43, of Monsall Drive, Macclesfield, was charged with conspiracy to commit robbery and bail offences after arriving from Zagreb.
He was arrested in Croatia on 18 July over the theft of £250,000 worth of jewellery in Bamber Bridge in 2013.
He and six others are due to appear at Preston Crown Court on 12 September.
Five of the men, who are all from Greater Manchester, have also been charged with conspiracy to commit robbery in relation to the theft, which took place in the car park of the Holiday Inn Express in the Lancashire town, last September.
They are Michael Lewis, 26, of Shaftesbury Gardens, Urmston; Andrew Lewis, 28, of Norwood Drive, Timperley; Lee Jarvis, 35, of Fencegate Avenue, Stockport; James Jarvis, 41, of Donnison Street, Manchester and Shaun Flanagan, 57, of Charlestown Road, Manchester.
Simon Parry, 34, of Hopefold Drive, Worsley, has been charged with attempting to pervert the course of justice in relation to the robbery.
A spokesman for Lancashire Constabulary said Mr Dunn's extradition was "understood to be the first from Croatia under the Extradition Act 2003".