Broomhill Sands flood protection work gets under way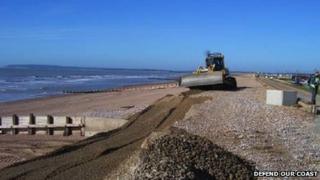 Work on a £30m sea defence project, which will improve flood protection for more than 1,400 properties on Romney Marsh, is getting under way.
The scheme will cover 1.5 miles (2.4km) of beach between Camber, East Sussex, to Lydd Ranges in Kent.
The Environment Agency said a site compound was set up at Jury's Gap last week and it was expecting the first delivery of rock on Thursday.
Defend Our Coast (DOC) said the scheme had taken years of hard work.
A barge bringing rock for a new one-mile (1.7 km) revetment will arrive at Jury's Gap.
Beach closures
There will also be a new tidal wave wall, extra shingle for the beach and widened an improved access along the top of the sea defences.
A number of timber groynes will be replaced.
The work, scheduled for completion in December 2015, will need periodic beach closures.
"Our team will make every effort to minimise the impact on local residents and businesses and work will be restricted to between 8am and 6pm," said Environment Agency operations manager Ian Nunn.
"I am delighted that work is able to start on this scheme, which I know is important for the people of Camber and Lydd Ranges."
DOC, which campaigns for continued defence of Romney Marsh, said it had taken years of negotiations and meetings to get to this point.
"We have come one step closer to protecting the whole of the marsh from coastal flooding," it said.