Airport-row Stanwell fights fresh Heathrow campaign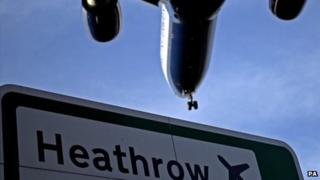 Residents who opposed plans for a third Heathrow runway in Surrey before it was taken off the table are now fighting the airport's plans for an incinerator and car park.
Stanwell Moor Residents Association said Heathrow would submit final plans in October and people were concerned.
Chairwoman Kathleen Croft said they were worried about development in the area as well as traffic and pollution.
Heathrow said it was fully consulting residents and councils.
The airport said a third runway would bring improvements.
'Not upfront'
Heathrow originally put forward three runway options to the Airport Commission, to the north, north-west and south-west of the airport. One option - the north-west runway - was shortlisted.
Stanwell residents are objecting to developments shown in the Refreshed North West Master Plan in the airport's revised technical submission.
The maps show car parking, an energy from waste plant, and a floating reed bed and attenuation reservoir in Surrey.
Campaigner Andrew McLuskey said: "What we feel particularly strongly about this time is that this has not been upfront.
"It has really been smuggled in under the guise of something else - a minor clarification. And the proposals themselves, certainly as they affect the Moor and Stanwell, would clearly be detrimental to our localities."
Quarry site row
But Nigel Milton, Heathrow's director of policy and political relations, said the airport had taken a conscious decision to publish as much information as possible.
He also said the airport had published online all documents submitted to the commission with an easy-to-read summary.
"With so much information to publish, it is possible that some details are difficult to find due to the volume of the submission," he added.
He urged residents to use the consultation hotline if they had questions.
Mr Milton said an incinerator in Colnbrook needed to be moved, but discussions with residents had revealed there were several alternative sites.
He also said discussions were ongoing with Spelthorne Council about plans to build a car park on a quarry site where residents had wanted a park, and what land use the council wanted to see.
Mr McLuskey said the protected quarry site had both historical and scientific interest.
But Mr Milton said plans were evolving and improving, adding: "I'm pretty confident by the time the engagement with Spelthorne and with local residents is finished that the residents of Spelthorne will truly believe the impact of the third runway on them will actually be an improvement."