Roadworks loom as 'smart motorway' work begins on M3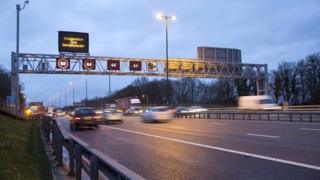 Preparation work has begun for months of roadworks to widen the M3 through Surrey.
The scheme, costing £129m, will convert the hard shoulder into a fourth lane along a 13.4-mile route through Hampshire and Surrey.
The Highways Agency said the work between junctions 2 and 4a will turn that part of the M3 into a "smart motorway".
This involves using technology to control traffic flows.
Tom Selby, from the Highways Agency, said he did not anticipate any "significant delays" with the scheme.
He said: "The whole idea behind smart motorways is that it's an improvement on traditional widening and the construction programme is shortened as a result of that."
He added that preparation work, including installing speed cameras, had begun, however, a start date for construction work had not been fixed.