Gatwick Airport flight path trial finishes after criticism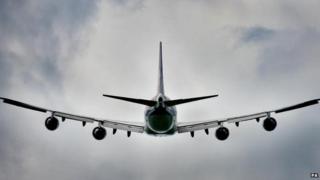 A six-month trial of new flight paths to and from Gatwick Airport has ended.
The trial was intended to gather information about how the airspace can be used more efficiently to make the most of Gatwick's single runway.
Conservative MP for Reigate, Crispin Blunt, said his constituents had complained of increased aircraft noise.
Tom Denton, head of corporate responsibility at the airport, said aircraft had been flying on a narrower and more concentrated flight path.
'Animosity'
He said: "That's meant during the trial, the aircraft, while not flying directly over populated areas...have been concentrated closer to some populated areas.
"[This] has created some negative feeling and animosity in the community for understandable reasons."
Mr Blunt said he had held a meeting with the airport's bosses about the trial.
He said: "Overall, although airspace patterns and aircraft technology might eventually mitigate or lessen noise disturbances for those under aircraft leaving Gatwick, no-one should be in any doubt that a second runway at Gatwick Airport, and potentially a trebling in air movements, could make this problem a lot worse."
The trial also faced opposition from residents in west Kent, with aircraft flying over Hever, Chiddingstone, and Sevenoaks Weald.