Grow more food, urge MPs, as farmers warn of shortages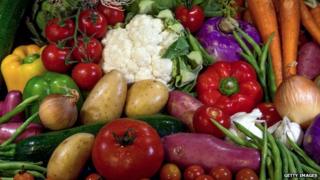 So is Britain in danger of running out of food? It may seem an odd question since the shelves of our supermarkets appear full. Next time, why not check how much of it is imported.
Our farmers and politicians are starting to talk of the need for Britain to be self-sufficient in growing its own food.
"We're aware of the need of energy security. We now have to think in terms of food security, otherwise we'll start to run out," Conservative MP Mark Spencer told me.
He runs his own farm just north of Nottingham and should know his onions.
"This also means the public and policy makers being more prepared to accept genetically modified food," he added.
The Sherwood MP helped shape a report from the parliamentary Rural Affairs Committee that warned of Britain's over-reliance on imported food.
"Complacency is a genuine risk to future UK food security," said committee chair Anne McIntosh.
"If we want our food production and supply systems to be secure, government and food producers must plan to meet the impacts of climate change, population growth and increasing global demand for food," added the North Yorkshire Conservative.
The National Farmers' Union also warned that if Britain had solely relied on home-grown produce so far this year, we would have already run out by this month.
Until the end of the year, food imports would have to fill the gap.
According to the MPs' report, the UK is currently 77% self-sufficient, a figure which has dropped by 10% in recent years.
The NFU claims self-sufficiency in fresh produce - such as fruit and vegetables - fell from 46% in 2000 to 34% in 2013. The gap has been filled with imports, mainly from the USA.
Some ask: Is "Dig for Victory" the new battle cry?
I sought an answer on a visit to Bakewell in Derbyshire, for one of the oldest and largest agricultural shows in Britain.
Food security was a talking point, but have we got the land and the farmers any more?
'Keen farmers'
"I think we have," Derbyshire NFU official Grant Hattle told me.
"We've got good agricultural colleges with a high standard of education.
"And they are full of young people keen to get involved with farming. We just need to make sure we can get them into the industry."
The government's new Rural Affairs Secretary Liz Truss gave farmers a lift with a £400m programme. That cash support will enable the NHS, the military and schools to buy food produced locally rather than relying on imports, even if cheaper.
But where's the benefit for consumers? Will self-sufficiency also result in higher prices at the supermarkets?
"It doesn't necessary mean that at all," said Mark Spencer.
"Locally-sourced food should guarantee better quality and at a fair price, without the costly food miles involved in flying food from the other side of the world."
Could this signal the end of Britain's cheap food policy?
And can the country grow enough food to feed itself?
"Dig for Victory?" We may need some updated slogans to persuade the doubters.