Liverpool medics honour WW1 double VC man Chavasse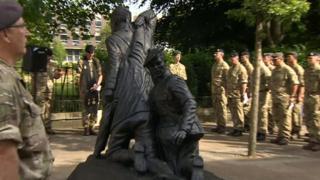 More than 50 army reserve medics from Liverpool have paid tribute to Capt Noel Chavasse, who won the Victoria Cross twice.
The medics from 208 (Liverpool) Field Hospital held a service at his memorial in Abercromby Square at 16:00 BST.
It took place on the nearest Saturday to the anniversary of his death on 4 August 1917.
Chavasse is one of only three men to win the medal twice since it became the highest award for gallantry in 1856.
Maj Ron Russell, training major at 208 Field Hospital, said: "Army Medical Services as a whole still looks to the work of Noel Chavasse; his great professionalism and devotion."
The son of the Bishop of Liverpool was the only soldier to be awarded the Victoria Cross twice during World War One.
The citations for both awards highlight his bravery while treating wounded men.
In 1916 he saved the lives of 20 badly wounded men. A year later he died of his wounds received tending to many wounded men at the Third Battle of Ypres - better known as Passchendaele.
A BBC poll in 2003 to find the 100 Greatest Merseysiders saw him come third, above Bill Shankly, George Harrison and William Gladstone, and behind only Ken Dodd and Lennon and McCartney.