No fun in the sun for politicians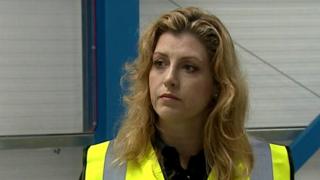 It should be the time for sun and sangria but instead it's statistics and a slew of announcements - it seems there's no time off for politicians this summer.
That's why, brolly in hand on a drab morning, new coastal communities minister Penny Mordaunt found herself in Lowestoft visiting a new business park.
"This whole place, from pressing the button to today, was 18 months which is incredibly impressive so all credit to them," she said.
"I'm here to pat them on the back and listen to what else I can do."
When asked why she's out in what used to be much valued down time, she said: "It's because we've got some time on our hands.
"I'm not putting up any bunting or wearing any rosettes today. I'm here to listen to local people and what I can do as their new minister to help improve on growth.
'Huge momentum'
"I could have gone on my summer holidays but I've said actually no, I want to make the biggest difference I can with the months I've got left, so that's why I'm here listening to local people, really understanding what I can do to help them build on the huge momentum in places like this."
With the offshore energy industry booming, a coastal communities fund grant has helped deliver maritime training for young people - but the minister was told more needs to be done.
We also had announcements that councils will be able to use surplus government land to benefit the local economy, perhaps by building business parks or housing.
Not to be outdone, the Labour Party published a low wage map. Red areas where average incomes are below £20,000 featured strongly around our coast.
And it's not long since Ed Balls made an appearance in Bedford for a major speech on the economy.
Despite it showing signs of recovery, the shadow chancellor argued that most people still remain worse off.
The fact he went to Bedford is no surprise either.
As one of Labour's top target seat in the region, the party's hoping to unseat the incumbent Conservative MP there.
Politicians are trying to give the impression this summer that there's a lot going on.
Anyone would think there's an election coming.